The Philadelphia End of the Bethlehem Branch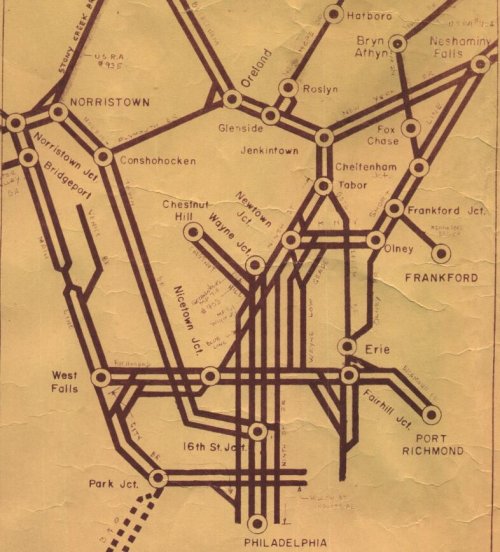 In the map above, dated 01 March 1974, the Bethlehem Branch can be followed along the southern end of it's route. The Bethelem Branch is the line which starts at Oreland (connection with the Plymouth Branch) at the top of the map, continues south through Glenside (connection with the New Hope Branch) and Jenkintown (connection with the New York Branch) and then diverges from the Ninth Street Branch at Tabor Junction. Bethlehem Branch continues south, passing under the New York Short Line in Olney and connecting with the Olney Branch at Erie (site of the old Erie Avenue Yard). The line passed over the Richmond Branch at Fairhill Junction and finally dwindled to single track as it approached the old North Penn terminal at Third and Berks Streets. The line did ramble south a bit further to a connection with the Willow and Noble Street Branch, but the connection is not shown on the map.


The Northern End of the Bethlehem Branch
In the map below, the rest of the Bethlehem Branch may be seen. This time, Jenkintown and Oreland are on the bottom of the map. The line leaving Third and Berks in the city was an uphill battle. Once the line exited the city limits and passed through suburbia and entered the rolling farm lands north of Jenkintown that the apparent lack of following a river valley course became apparent. The line north of Jenkintown has been likened to a roller coaster, with grades as steep as 1.2 per cent. The single track segment around Perkasie was the only remaining tunnel on the line. Another tunnel existed at Gwynedd Valley, but it was made in to a deep cut when that portion of the line was electrified in the 1930's. The Perkasie tunnel was originally constructed with double track, but as equipment grew the track was first made a gauntlet and finally single tracked through the opening.