Drew's Pics From Krums' 2002/2003 New Year's Eve Bash

Click on a thumbnail to see a larger (you size queen!) version.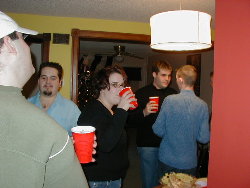 Pretty much a shot of the dining room - nothing to see here, move along...



Drinkin' in the kitchen with Matty T...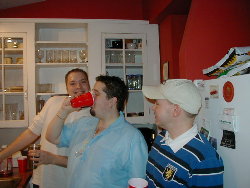 Someone obviously had a swig of whatever is in that shaker.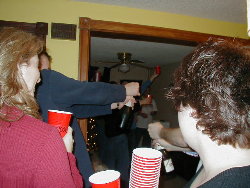 Happy New Year 2003!!!


Matty, he doesn't have tits so I don't know what you are rubbing your face in....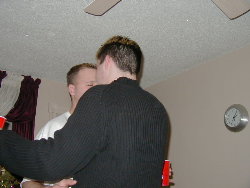 Not even going to go where this one looks like it is...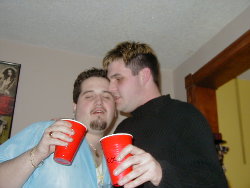 The drunkest of pals...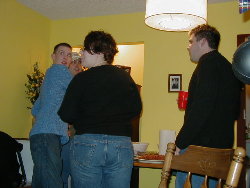 Feeding time for the natives.
Two photos of the festive party palace

No party is complete without a Super Model, we were blessed with a visit from Matty Buzz



"I'm sssssuper and thanksss for asking"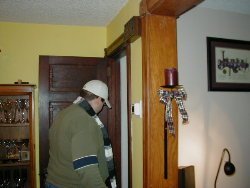 "Jamie, I *love* your scarf...it's so warm!"


Watch out Williard Scott, here comes Matty Buzz.


Not to be outdone, we also had the famous model Buzzed Matty...Or is it Passedout Matty?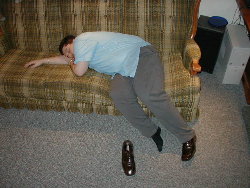 What more is there to say? He's out for the count with one shoe on and one shoe off .


Unfortunately, the evening was not crime free. The notorious "Evil Cat in The Hat" showed up.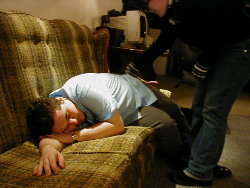 Jamie grabs a feel of the Supermodel's ASSetts.
Hanging in the basement like underage drinkers…
Yawn! Is this party almost over? It is almost 01.30 Hours…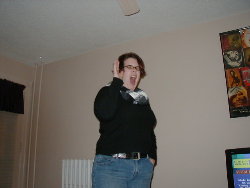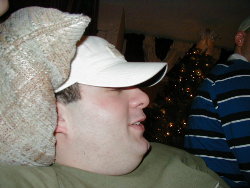 Happy (drunk?) gay couples…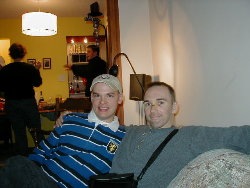 The Thong….Errr….End!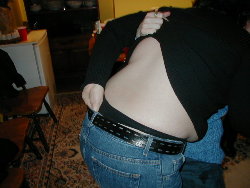 Copyrighted and all rights reserved AJM 02 January 2003